Check out this photo of an AMAZING collection of smaller Steiff zoo animals that will be part of the October sale as its very own lot! This photo was sent to Steiffgal from Christie's to share with the Steifflife readers... talk about an awesome "instant collection" for the lucky bidder! According to Christie's, this grouping - number 38 of the auction - is described as... "Nineteen post-war hoofed wild animals and kangaroos - sold as one lot. Estimate: £500-800."
Just to keep things fair - and Steiffgal recommends never upsetting the laws of nature - lets take a closer look at the items in this remarkable collection in alphabetical order!
B is for bison, and here we have two of Steiff's finest earliest examples. The two bison on the top shelf of the photo appear to be the 12 and 17 cm size; this pattern also came in 30 cm. These bison are unjointed, made from long, shaggy tipped mohair, and are selectively shorn around their legs and backsides. Their "tail ends " are airbrushed to give them their characteristic body shape and varying textures. Both have glass pupil eyes; the larger one has pert felt horns. It is interesting to note that this bison was introduced in 1960 as a US exclusive; a few years later, in 1962 and 1963, this identical design was produced in the same three sizes for worldwide distribution. You can tell the difference as bison with "90" as the last digits of their ear tag article numbers are from 1960; while those from 1962 and 1963 sport "00" as their last digits. This design appeared in the catalog through 1963.
C is for camel; this lot represents a "collection within a collection" of these desert dandies. The single-humped smaller one on the center shelf and the larger one on the bottom shelf are both Steiff's Dromedar or Dromedary camels. They are unjointed and have wool plush bodies, long velvet legs, and velvet faces. Their ears are felt. This design was produced post war in 14, 17, 28, ad 35 cm from 1950 through 1969. From a collector's and historical perspective, this pattern is almost identical to the one produced pre-war, from 1933 through 1942, except the older version has mohair legs.
The double humped, or Bactrian, camel on the top shelf is a highlight of this zany zoo lot. He is a bit of a mystery as he does not appear in the Gunther Pfeiffer's Steiff Sortiment books, the standard reference for collectors. He appears to be around 17 cm and unjointed. His chest tag dates him in the 1953 through 1971 range. Now take a close look at the previously described bisons and this specific camel in the lot photo. All have the same coloring, appear to be made from the same mohair fabrics, and have similar airbrushing details on their feet. It would be Steiffgal's best guess that the production timeframe of the Bactrian camel was similar to that of the bison, most likely between 1960 and 1963.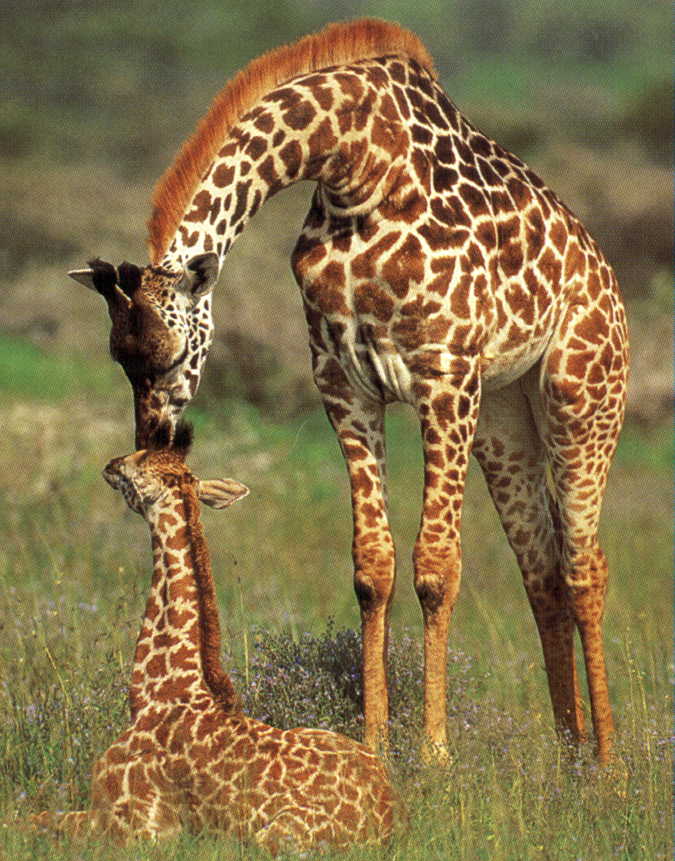 G is for giraffe, and its no stretch to say that most Steiff collectors would welcome these two tall treasures into their collection! Both of these giraffes are the model Steiff produced in 14, 28, 35, 50, and 75 cm in the 1953 through 1974 timeframe. The 14 cm version was produced in tan velvet plush while the four larger sizes were made from tan mohair. All were unjointed, carefully hand painted with their requisite orange spots, had little horns, and black eyes. The 35, 50, and 75 cm models had open, peach felt lined mouths. The giraffes pictured in this collection appear to be the 14 and 28 cm sized versions.
K is for kangaroo, so hop to it and take a look at this fantastic foursome. It took a little detective work, and a magnifying glass to the picture, but Steiffgal is all but certain that the three kangas on the bottom shelf of this picture are Steiff's Kaenguruh Kangoo or Kangaroo Kangoo. Kangoo was produced from 1953 through 1966; a newer quite similar kangaroo design named "Linda" took her place in the Steiff line from 1967 through 1974. Kangoo was produced in 14, 28, 50, and 65 cm. She is in a "begging" position, made from mohair, and has golden airbrushing on her back and sides and black airbrushing on her paw tips, ears, and face. The larger versions are arm jointed; all sizes have a pouch. The 14 and 28 cm Kangoos have plastic joeys, the 50 cm size have velvet joeys, and the 65 cm size have mohair joeys.
But what about the baby 'goo on the middle shelf? The smallest kangaroo in the picture appears to be about 10 cm, unjointed, and made from velvet. Like her Bactrian cousin, she is not specifically documented in the Steiff Sortiment reference books. Given her appearance and size, Steiffgal thinks that she may be a joey from a 50 cm Kangoo.
L is for Llama, and this fine example is a wonderful ambassador from the Andes mountains. Llama's body is made from long cream-colored mohair with brown, black, and tan airbrushed spots. His legs (from mid-thigh down) and face are both made from off white velvet. His ears are tan felt with a bit of pink airbrushing. Check out his feet; they are remarkably similar in design to that of Steiff's Dromedary camels. Llamas are relatively uncommon in the Steiff catalog; this particular model was the first ever produced and was available from 1957 through 1969 in three sizes: 17, 28, and 43 cm. Steiff has also produced a Studio llama in the 1960's and two soft plush play llamas in the 1990's.
O is for okapi, a rare and exotic species most closely genetically related to giraffes! These Steiff okapi are located on the bottom left of the photo. Steiff produced these beautiful beasts in 14, 28, and 43 cm from 1958 through 1970. They are standing and unjointed. The two smaller sized versions are made from velvet while the larger one is made from mohair. Given that the two examples in this lot are velvet, they must be 14 and 28 cm. The larger okapi's ears are lined in mohair, a charming and unexpected detail. The hand stenciling and airbrush work on these Steiff okapi are simply remarkable, imagine the time and effort it took to get each stripe and highlight just right! These okapi are so much more than "ok" in Steiffgals book!
And finally, Z is for zebra, for Steiff collectors who see things in black and white! Here we have four supremely striped Steiff zebras, all that date within the 1953 through 1971 time frame, given their chest tags. Steiff produced this zebra design in 12, 22, 28, and 35 cm from 1951 through 1977 overall. Zebra is standing and unjointed. The smallest size is made from velvet and has felt ears; the larger sizes are made from mohair and have have mohair ears. All have a back mane of mohair are lovingly hand-airbrushed and stenciled, giving them their striped appearance.
Steiffgal hopes this trip to the Steiff zoo has been a fun and enjoyable excursion on this late summer day! Never mind the herd mentality, she hopes to meet as many of you as possible at the auction!
Have a question about one of your

Steiff

treasures? Let's talk! Click here to learn more.